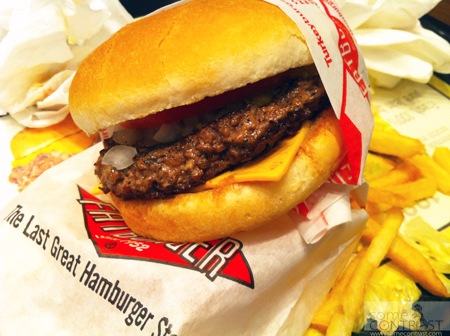 We got a message from Fahad² saying Fatburger is now open, and that they're serving everything free of charge. My friends and I wanted to try it out, but we hesitated thinking it'd be packed since it's their first day and that everything was free. We worried we'd find a huge line and end up wasting the rest of the day waiting. We ended up going there anyway. There was no line and the place was about 50% full.
This is my first time at Fatburger. I didn't know what I was supposed to do, sit at a table and wait for the waiter? Go and order from the counter? I wasn't sure, so I let my friend lead the way, and he led us to the counter. We ordered and waited at the table.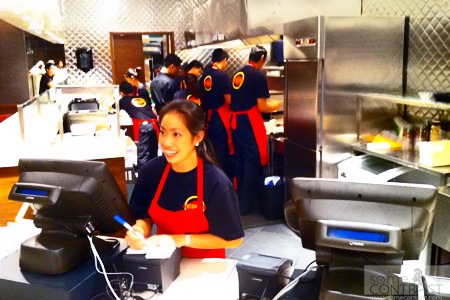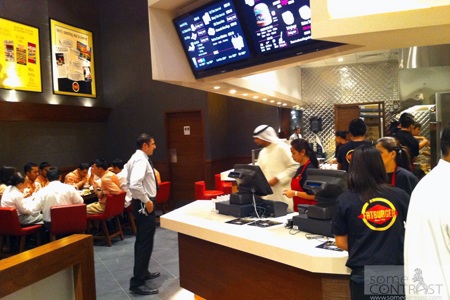 The waiters were extremely welcoming and enthusiastic, which was fun. Even when they yelled our orders as we were heading to the table. They do that, they get your order and yell it out to the rest of the team, and then all the team yell it right back. It was kinda awkward coz I ordered the double fatburger and everybody got to know about it. But then again they yelled everyone's order.. many people got the double fatburger, which made me less self conscious 😛
Anyway, here is the deal. I don't want to sound harsh. I seriously don't. But I found the burger.. OK. The burger was nice, the bun was cold, the relish stood out with the mustard, and the mayo was bland. It overall didn't meet my expectations. It's better than Fudds's, better than most places with burgers, but doesn't come close to Johnny's. Thats what I thought. Don't get me wrong, I'd go there again, I enjoyed it, didn't fall in love with it though.. I thought it was a nice juicy burger.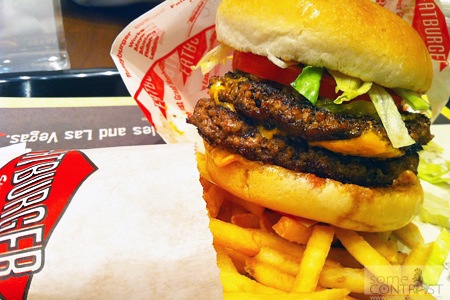 The fries was ok, too. I'd wait for the chili cheese fries since it was marked 'coming soon' on the menu. Oh, and there was a little problem mistake with the burgers, some were over seasoned, and turned out salty, and some were under-seasoned and lacked salt. Considering they're still pretty new and have just opened, mistakes like these shouldn't take long to be corrected and mastered.
The highlight was the Vanilla Milkshake. It rocked. Took me by surprise actually. I loved it and thought it was worth driving to Mahboola even if you weren't in the mood for burgers.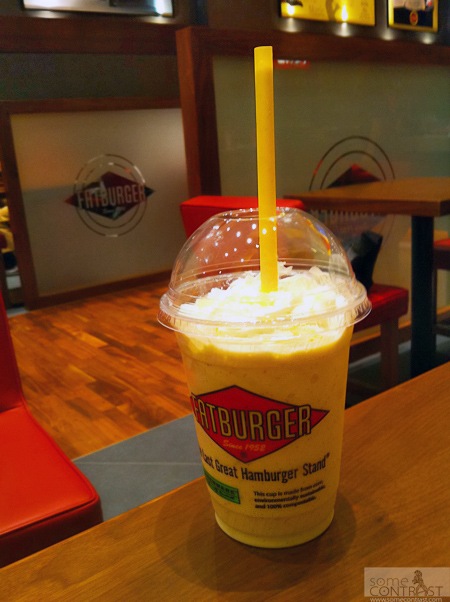 We had a little chat with the owner, Mr. Nawaf, who was extremely nice and polite even when we criticised some of the things we ate. He explained that their Vanilla shake is made from a Kuwait made vanilla icecream. The icecream is brought over from 360's Life with Cacao (same owners). Which really made sense to me, since I've had their vanilla icecream when I went there, and I completely and utterly loved it. I kept praising and recommending it to whoever is going there, coz it was perfect. Actually I was surprised that such an amazing icecream was made in Kuwait. You have to try it. Hat's off to you guys for this amazing recipe.
To wrap things up, their burger is good, many of you will love it, I've had better in Kuwait, but overall it was a nice change.
Fatburger is now open everyday from 5pm to midnight. They're located in Mahboola at Spoons food mall.
This entry was posted on Tuesday, July 27th, 2010 at 12:51 am