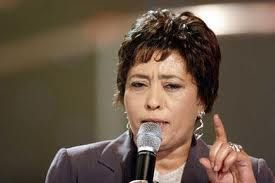 Just got an sms telling me that Rabab the Iraqi singer has passed away. Alah yer7amha.
"توفيت الفنانة العراقية رباب مساء أمس، بعد إصابتها بنزيف حاد بالمخ أدخلها في غيبوبة منذ 3 أيام.
وقالت مصادر مقربة من الفنانة الراحلة إن رباب توفيت في الساعة التاسعة من مساء أمس، بعد فشل الأطباء في محاولة إيقاف النزيف الحاد في المخ.
وكانت مديرة أعمال الفنانة الراحلة قالت لـ"الإمارات اليوم" في وقت سابق، إن صحة رباب تدهورت بشكل مفاجئ منذ ثلاثة أيام فــقط، ظلت فيها حبيسة غرفة العناية الفائقة، بسبب ارتفاع شديد في ضغط الدم تسبب في نزيف داخلي وبشكل خاص في المخ، مؤكدةً أن سوء حالتها جعلت الأطباء يفضلون عدم التدخل جراحياً بانتظار معجزة الشفاء." – Source
This entry was posted on Saturday, July 3rd, 2010 at 1:13 am