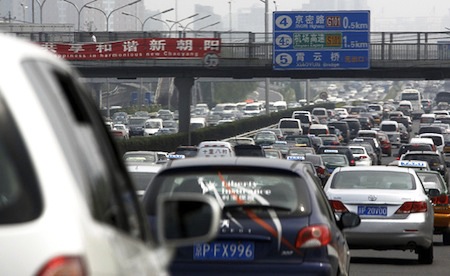 Have you ever been stuck in a traffic jam in Kuwait? I'm sure most of you have, but how long were you stuck? whats your record? I think the longest I've been in a traffic jam in Kuwait was for an hour and a half. Now how about some perspective?
There is an ongoing traffic jam in China that started on August 14, 2010, and has lasted for 10 days and still counting. Some cars have been stuck in there for over 4 days. There is a wikipedia page about this!
From wikipedia:
The 2010 China National Highway 110 traffic jam
It's a massive traffic jam that started on August 14, 2010, on China National Highway 110. The traffic jam slowed down thousands of vehicles for more than 100-kilometers and has lasted for ten days. Many drivers have only been able to move their car one kilometer per day, and some drivers have reported being stuck in the traffic jam for five days.
Cause
Traffic on the highway has grown 40 per cent every year in the last several years, making the highway chronically congested.
The cause of the traffic jam on the Beijing-Tibet expressway was reported to be due to a spike in traffic by heavy trucks heading to Beijing along with road maintenance work that began five days later. The road constructions that is said to contribute heavily to the traffic jam is said not to end until mid-September. Police have reported that minor breakdowns and accidents have compounded the problem.
An alternative explanation is that the restriction on illegal coal production has increased the demand for coal to be illegally produced in the providence of Inner Mongolia and shipped to Bejing because there are no coal checkpoints on the highway connecting this route. This, in turn, has created massive congestion.
Creation of mini economy
Because many drivers were stranded in their cars for days, locals near the highway have began to sell various goods, including water, instant noodles, and cigarettes, to the drivers stuck on the road at inflated prices.
Thanks HalfCreamMilk
This entry was posted on Wednesday, August 25th, 2010 at 2:17 am