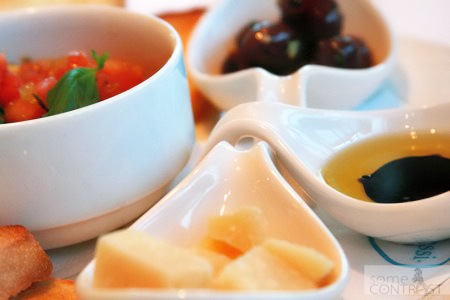 When Singore Sassi first opened in Kuwait we loved it. I even praised it in one of my reviews. It was a great new italian restaurant on the Kuwaiti scene. Unfortunately, as is the case with every Americana owned restaurant, quality control and food's quality overall isn't one of their concerns, and they let this amazing italian restaurant spiral down as the days went by.
It's a shame in my opinion. I've been giving it a lot of chances, 3 chances actually in the past 2 months and it has failed to serve a decent meal in all of the last 3 visits. Today, we had it with the place, the last straw as they say, we're done and aren't going back there.
It was with the risotto fungi which is a dish we used to enjoy at Sassi's. Today it tasted like it was something off a magi ready made mix.
It was with one of Sassi's special dishes, the grilled sole fillet. It tasted weird. I don't know how to describe it, but you know how a tea-soaked biscuit comes a part when lifted? it was like that. It wasn't fresh.
I left a comment card and the manager called me as we were leaving the parking area. In his apology speech he mentioned that the sole was indeed not-so-fresh, as they've changed their source and their attempts to get fresh fish all failed. They're planning to take it off the menu because of the complaints and the 'unfreshness' issue. They had me order eat and pay for this unworthy dish that they all knew had to be taken off the menu.
The 3 points above were only regarding today's visit. I think 3 chances, hoping that things would turn around, are more than enough. Evidently they don't care enough to maintain a certain standard when it comes to food quality, and they probably think we have tongues made out of rubber and can't tell the difference between good food and bad food.
What a shame.
This entry was posted on Sunday, August 1st, 2010 at 12:00 am