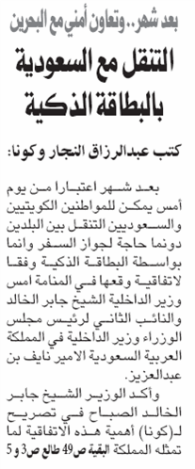 "The Kuwaiti and Saudi nationals will be able to use smart cards to enter each other's country through the official crossing points in line with the travel laws and their executive statutes.
"Kuwait and Saudi Arabia have signed yesterday an agreement allowing their nationals to use smart ID cards instead of passports to cross the joint borders. The deal will take force only one month after being signed by Kuwaiti Minister of Interior Lt-Gen (rtd) Sheikh Jaber Al-Khaled Al-Sabah and Saudi Arabia's Second Deputy Prime Minister and Minister of Interior Prince Nayif Bin-Abdulaziz Al-Saud."
This line kinda cracked me up:
"The deal will greatly facilitate the movement of citizens of the t
wo sisterly countries; it sets example for what the ties between neighbors should be"
It "sets" an example? You mean in the middle east right? coz europe have been setting countless examples for the past 30 years, and the travel between 2 'sisterly' countries thingi have been set a long time ago.
Anyway. I'm so happy about this piece of news!
Thanks Khalid
This entry was posted on Thursday, September 23rd, 2010 at 10:15 am