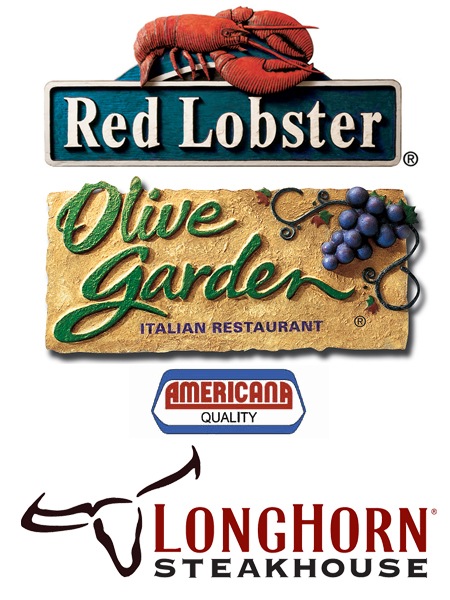 Rejoice all you foodies out there. Americana reached an agreement with owner of Red Lobster, Olive Garden and LonHorn Steakhouse chains. The agreement includes opening at least 60 branches of the before mentioned restaurants in the middle east region.
I just hope they try and raise their standards and maintain quality.
Taken from The Wall Street Journal:
Darden Restaurants Inc. said Tuesday it reached an agreement with franchise operator Americana Group to develop at least 60 of its restaurants in the Middle East.
The operator of Olive Garden, Red Lobster and LongHorn Steakhouse chains said the agreement calls for Americana to put in place restaurants in countries such as Bahrain, Egypt, Kuwait and Saudi Arabia. Financial terms of the agreement weren't disclosed.
"The Middle East is an attractive, growing market that has shown a strong affinity for American brands, especially American dining brands," said Darden Chairman and Chief Executive Clarence Otis.
Americana is the biggest food-service franchise operator in the Middle East, with more than 1,200 restaurants in the region. It has franchised U.S. brands such as KFC, Pizza Hut, Hardee's and TGI Friday's.
"Consumer demand for casual dining brands in the Middle East market has grown over the past decade, and we expect that growth to continue in the future," said Americana Chairman and General Manager Marzouk Al Kharafi.
Darden has seen improvement of late as the U.S. economy has continued to heal and demand for casual dining has gotten better as consumers have loosened the grip on their wallets.
The company continually outperformed its sector during the recession and has steered clear of price-focused promotions favored by other chains. In September, the company said its fiscal first-quarter profit rose 20% and same-store sales rose.
Thanks Jana
This entry was posted on Tuesday, October 19th, 2010 at 8:38 pm