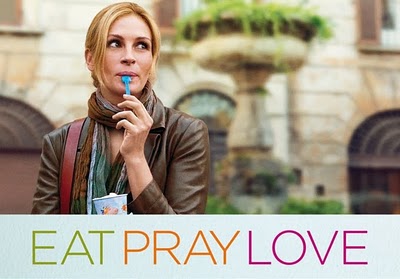 A new guest writer who wished to remain anonymous is writing her first movie review for us at somecontrast. Personally i find her takes and opinions on movies very good and on point. We hope you find this review helpful. Here it goes:
Eat Pray Love (2010)
Director: Ryan Murphy.
Writers: Ryan Murphy & Jennifer Salt based on the autobiographical book by Elizabeth Gilbert.
Cast: Julia Roberts, James Franco, Javier Bardem.
Rating: PG 13
Summery:
Elizabeth (Julia Roberts), a travel writer, unhappy with her marriage and life decides to divorce and take a year off to travel to Italy, India and Bali and hopefully "find herself" and rekindle her passion for life.
Review:
Although i haven't read the book this movie is based on, i was familiar with the story. I'll be frank and say that the plot is cliche; hero finds love and happiness abroad. The movie starts slow but picks up the pace when Elizabeth goes to Italy. Now I might be prejudiced since I love everything Italian but this is my favorite part of the whole movie. The scenes were love letters to Italian food and made me crave spaghetti and pizza and wish I was in Rome right now. By contrast, the India segment is loud and stereotypical and although it was supposed to be spiritual it didn't feel so to me at all. Next,Elizabeth goes to Bali where she finds love with Felipe as well as hippies and medicine men.
I must say that unfortunately Julia Roberts was not her usual charming self and was not looking her best. And although they are both great actors, there was no chemistry between Julia and Javier and I wasn't touched by the characters love affair.
Another issue was the censorship by the ministry, which unfortunately affected the movie and made no sense since the movie is rated PG 13.
Venue:
I totally enjoyed seeing a movie in the VIP section of the 360 cinema hall. The seat was so comfortable and the audience were quiet but best of all is that no one was kicking the back of my seat.
Bottom Line:
If you love Julia Roberts and travel movies, then walk to the cinema but don't run.
This entry was posted on Saturday, October 16th, 2010 at 12:30 am