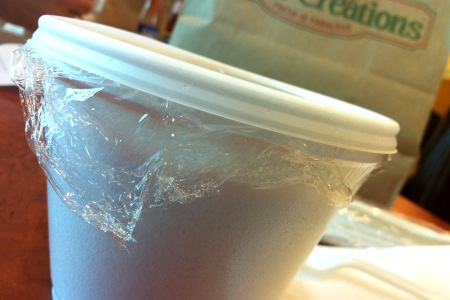 My brother Hamad told me about Salad Creations Soups a long time ago. He said that He thought it "tastes just like the Soup Nazi's." You can't think twice when someone mentions the soup Nazi, but unfortunately when I called them they told me that they've stopped the soups for now. That was a year ago.
A year later, yesterday, the soups were back on their menu, so my colleague and I ordered some. We both got the Spicy Chicken Soup.
The soup was unapologetically spicy. When Salad Creations says something, they mean it. It was real spicy, with lots of character, actually the soups character hits you like an 18 wheeler. It's thick from all the ingredients: beans, corn, eggplants, chicken, and chili, among other stuff.
It tastes a lot like Chili's Chicken Enchilada Soup. A lot like it.
We liked it. We thought it was good, spicy and heavy. A meal in itself and it's worth it. Our only complaint was about the chicken, its presence was overshadowed.
The delivery took 40 minutes, and it was still very hot when we got it and clean, not a single drop in the bag.
Salad Creations phone # 22257914/5
Note: Stay away from their Tuna Panini.
This entry was posted on Wednesday, October 20th, 2010 at 10:03 am