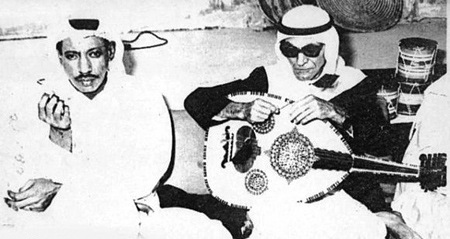 I listen to the best songs while the iPod's on shuffle. Just today as I was starting my long drive back, I turned the iPod to shuffle, and it picked the best songs, one by one. I have a great collection that I almost never listen to.
I discovered Awath Dookhi's song (scroll down) last week, I didn't know I had it in the iPod, and since having my first listen last week I can't seem to get enough of it. It was picked by my iPod today too, while on shuffle mode.
I've always wondered why he عوض دوخي got famous? and I always thought the reason was that there was no competition back then and people didn't know any better.. Boy was I wrong. He is soothing, full of emotions and have great vocals to back the great music and lyrics. Thats why people loved him back then and still do.
Audio clip: Adobe Flash Player (version 9 or above) is required to play this audio clip. Download the latest version here. You also need to have JavaScript enabled in your browser.
The song is a grower, give it a chance, and try using the shuffle mode more often 🙂
This entry was posted on Sunday, October 3rd, 2010 at 8:30 am