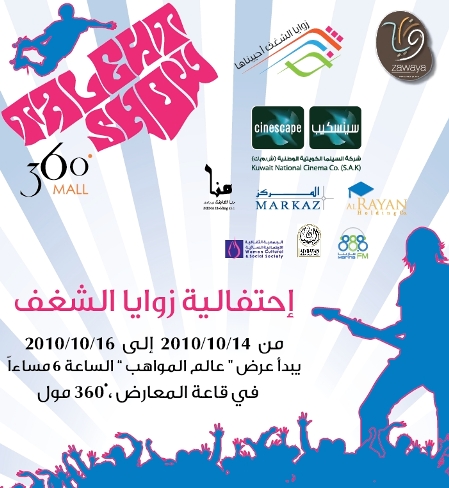 You're all invited to Zawaya Ashaghaf's celebratory event held at 360 Exhibition hall on the 14th, 15th and 16th of October. A whole day event with an exhilarating show starting at 6 pm.
The event will carry the following:
A talent show and exhibition.
Comic book.
Yasmina Dashti, a unique genius talent and an author will also participate.
ينطلق مشروع زوايا الشغف في عامه الثاني في 360 مول بين 14-16 أكتوبر 2010 في قاعة المعارض – الدور الأرضي، ليقدم احتفالية فريدة من نوعها تحمل مبدأين أساسيين الشغف و العطاء و عدم الحكم على الغير، و تتضمن الآتي:
عرض المواهب.
 كتاب الرسم الفكاهي .
بالإضافة الى ذلك تضم الاحتفالية الكاتبة النابغة ذات 11 عاما ياسمينا دشتي.
This entry was posted on Wednesday, October 13th, 2010 at 2:13 pm