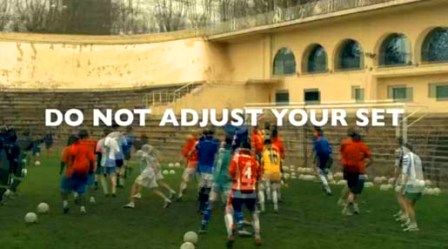 There are certain things that shouldn't cost so much. I wouldn't mind spending on a nice watch, a nice wallet, a nice whatever. But a TV at KD1500+ is just not worth buying. Some might argue that TVs are the most used piece of furniture ever invented, and I'd agree, but certain things shouldn't cost much, the tv is one of those things.
Fa 3ad I've been shopping around for a nice thin TV to hang on my room's wall and replace my current vintage "Bo dabba" TV. I like doing my research before I buy something.. it took me 3 months to buy my sound canceling bose headphones.. so you can imagine how much time would I need to buy a new TV.. (7 years) e7em.. anyway. I was glad when they announce the LED technology, I thought I was real smart for holding out and not buying the thin Full HD TVs when they came out, coz now we have something that is even slimmer and akshakh.. I also remember not liking it's KD1000+ price. No TV is worth my 1000+ monayyh. And it happened all over again with the new cool and futuristic 3D TVs. I mean you can't help but be a kid again with 3D technology, right?
But you know what? I've always thought that we, humans, weren't meant to indulge ourselves in such an advanced technology, it's way too cool, and even way cooler to have at our houses and in our rooms.. ya3ny imagine yourself going to sleep to a 3D TV. We're just not there yet. And apparently someone whose opinion really does matter agrees with me, and have proofs that 3D TVs doesn't work well with our brains. Unless they produce holographic images, they won't work.
Anyway, if you're thinking of buying one, with or without 3D glasses, then you might want to read this article. I did, and you should read this piece by too, it's by a multiple academy award winning editor Walter Murch.
Highlights:
"But the deeper problem is that the audience must focus their eyes at the plane of the screen — say it is 80 feet away. This is constant no matter what.
But their eyes must converge at perhaps 10 feet away, then 60 feet, then 120 feet, and so on, depending on what the illusion is. So 3D films require us to focus at one distance and converge at another. And 600 million years of evolution has never presented this problem before. All living things with eyes have always focused and converged at the same point."
"3D films would not work if we couldn't. But it is like tapping your head and rubbing your stomach at the same time, difficult. So the "CPU" of our perceptual brain has to work extra hard, which is why after 20 minutes or so many people get headaches. They are doing something that 600 million years of evolution never prepared them for. This is a deep problem, which no amount of technical tweaking can fix. Nothing will fix it short of producing true "holographic" images."
"So: dark, small, stroby, headache inducing, alienating. And expensive. The question is: how long will it take people to realize and get fed up?" – Walter Murch
"It doesn't work with our brains and it never will.
The notion that we are asked to pay a premium to witness an inferior and inherently brain-confusing image is outrageous. The case is closed." – Roger Ebert
So, now we have 2 problems at hand: #1 We need another million years or so to learn how to watch 3D TVs. and #2 TVs shouldn't cost this much!!
This entry was posted on Tuesday, January 25th, 2011 at 10:52 am