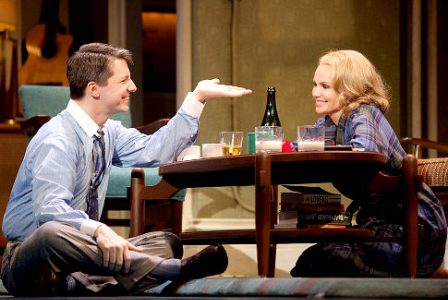 SO! We wanted to attend at least 2 shows in New York, Broadway shows, plays, musicals that used R&B Instrumentals, call them what you call them, we wanted 2. Why 2? Well simply coz we had lots of things to see, lots of places to be and only 8 days in NY. We thought of adding one more show, but we left it 3altesaheel. We chose the obvious hit musical, Wicked, and another musical called 'Promises Promises.'
Promises seemed like the right choice after some heavy googling, show comparisons, and serious reviews-reading. It was a nice musical that was generating lots of money, weekly, with a great cast to back it up. We also learned the musical was going to END on the January 2nd. We had to attend the Finale, right? So we booked premium seats, 2nd row in the middle section. We could actually see the actors spit landing on the conductor's face.
The play is about this guy played by Sean Hayes, who is very insecure and is head over heals for this lady played by Kristin Chenoweth, who works in the same company. He is promised promotions by his married superiors if he let them use his apartment on weekdays for their dates. He finds out later that the woman he loves is in love with one of his superiors, the big boss, and has visited his apartment with the boss on many occasions, She was promised marriage.
The play was beautiful. It was full of great acting, big voices and good, really good, songs. Molly Shannon played a little part too, she was HILARIOUS! We didn't stop laughing for the entire 15 minutes she was on stage. The musical also had its emotional moments. The girls sitting next to us wear practically weeping. They had tissues on their faces for last 30 minutes of the play. Even the cast, by the last 2 or 3 minutes, they started welling up and some even cried. It was magical. A huge sweeping standing ovation was due when it ended, and bouquets of flowers were distributed. The 2 stars gave nice little speeches where they thanked each others and the audience, before heading backstage.
We bought 2 CDs from the giftshop on our way out. We had to! The songs and their voices along with their acting and storyline, everything, formed an amazing theatrical experiece. We didn't know we were meant to buy the CDs for something GOOD to come. We stepped outside and we saw people running on the street heading to the back of the theater. Security and body guards were organizing the crowds, and having them in lines in front of the backdoor.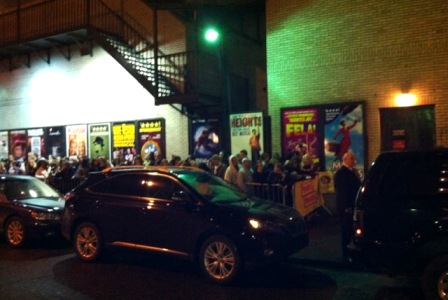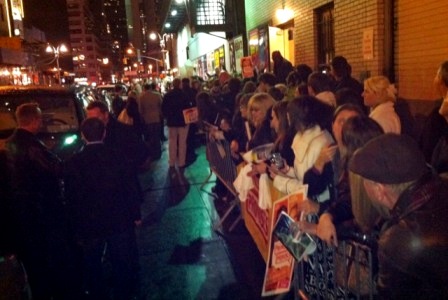 So we stood there, across the street waiting for the stars to come out. We saw Will Ferrell while waiting, and in all seriousness we couldn't care less. After like 15 minutes they came out. And were signing autographs for every one. That's when we decided to join them and have our CDs autographed. There was no pushin and no rushing, actually they took their time to hug fans and talk and had all the time to sign everybody's everything. Thats when we got our booklets signed.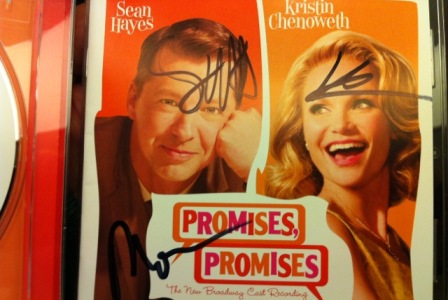 Molly Shannon came out first, then Kristin Chenoweth, and then Sean Hayes. My friend managed to mention that we were from Kuwait, and Hayes expressed that he was pleasantly surprised to see people flying all the way from Kuwait to attend the musical's finale.
Pretty Surreal, seeing all those talented people on stage, and then having a little chat with them outside, and then have their autographs in a very relaxed manner; they signed and talked with every one. Extremely nice and down to earth people.
This entry was posted on Wednesday, January 19th, 2011 at 12:37 pm