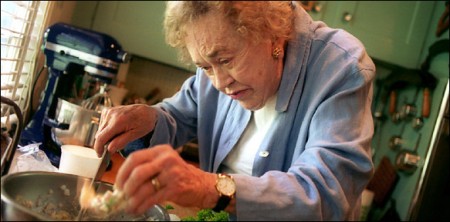 Have you watched the movie yet? Julie & Julia? You have to. Great acting and great food.
My friend and I were hoping that we could skim through Julia Child's book, pick a few easy recipes, and then cook a single dish every weekend. Well we were a bit too optimistic. Why? Because Julia cooks like crazy. She uses multiple pans, multiple pots, and lots of ingredients that had to be cooked separately, then added together in the most intricate way possible, and that my friends goes beyond what I'm capable of. I don't have that kind of patience and I don't like work for hours and end up eating the dish in 10 minutes. It's frustrating. But anyway, we ended up doing 2 very simple and easy recipes, and hit gold with 1 of them.
We made:
Cream of Mushroom soup.
Crêpes.
The Cream of Mushroom soup took around 2 hours, 4 pans and pots minimum, lots of shouting, many helpers.. And a great deal of patience. It tasted amazing, a bit salty, we forgot to count in the salt in the chicken stock, but that didn't stop it from being a success. We all loved it.
The Crêpes recipe on the other hand was extremely simple, and it is just the most practical and tasty thing on the entire book in my opinion. It's fun too, I loved flipping the Crêpes with the pan. It takes less than 10 minutes of preparation time and 2 hours in the fridge and it's done. Smashing success.
I'll be posting those recipes with pictures once I feel like editing all of those pictures (they've been in my iPhoto since mid Ramadan).
For now, why don't you go to Julie Powell's blog (as in the blog that started it all), and read through it.