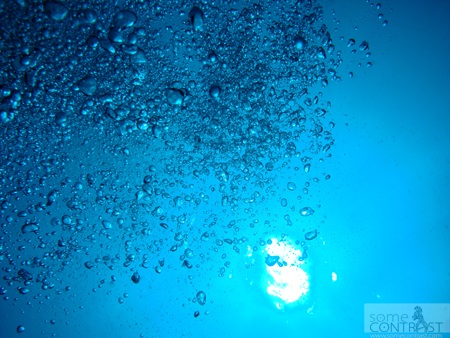 The first time I came near drowning was way back in 1990 in a swimming pool in Spain. My older brother 'saved' me. The second time was just 2 months ago, in Sharm AlSheikh, while in full diving gear.
We were diving in Shark's Bay. The Shark's bay's name sounds dangerous, but I've never seen a shark over there. The dive was a shore dive, which means you wear your gear and walk to the sea and slowly get submerged under the waters as you walk further in. Cool place to dive since even when your feet could still touch the ground, you can see all the corals, fish, and lovely blue depths ahead. The water's beauty over there is intoxicating.
It was an early dive, the bus was coming to pick us up and we were still in our beds. Sulaiman being the most disciplined person in the group passed by our room earlier and woke us all up and headed to the breakfast buffet. The breakfast was essential prior to every dive. You had to have something to eat before a dive, that's what we were taught. That morning however, we barely had enough time to pack our gears and wear our shorts. There was always a time shortage when we're in Sharm. We walked out of our rooms and headed to the car, Sulaiman met us half way. He was coming to yell at us for being late, as always.
We got to Shark Bay in 10 minutes, wore our gear and were in the water soon after. I was hungry and excited, my excitement totally overshadowed me being hungry, and that, my friends, is rare in my case. We walked into the water, wore our masks, then walked in a littler deeper, and finally peeked under the surface. It was beautiful down there. The Corals, colored fish, crystal clear waters.. You could see that we were excited about this place as soon as we looked back up. The guide ordered us all to empty the air in all of our BCDs (vests) and start the dive. We happily did.
The ground's slope at this location is amazing. You can touch the ground with your feet one minute, and the next minute you're 15 meters under the surface. Amazing. We started going deeper and deeper, I had a weird feeling going through me only 10 minutes after the dive. I didn't know what it was. I ignored it cautiously. The dive was getting better, we were nearing a canyon, and I haven't seen this canyon when I came to this same spot last year. As we were taking our time to get to the canyon, that weird feeling started to bother me and I felt that something bad was about to happen. I didn't know what was going on, I didn't know what that feeling was, It just felt like my heart have just received some really bad news; I felt heavy hearted.
I was looking at 2 of my friends infront of me, they were beginners. I was observing the air bubbles coming out of their mouths. Aziz was getting better at controlling his air intakes, while Mohammed was only getting worse. Unbroken chains of bubbles were rising from his mouth. He was basically draining his air tank, and at this rate, we'll be forced to end our dive and get out in no time. We hate that. I, on the other hand, was great at controlling my breathing.
While observing their bubbles, That weird feeling started to get the best of me. I felt I was being suffocated.
There is something you learn instinctively, as you get into diving, and it's really important: You don't get into the water or plan a dive unless there is someone around who you trust 100% and could count on. That someone that day was Sulaiman. I motioned him over, he came close immediately. I took his white board and wrote 'Madry Shfeeny' on it (I don't know whats wrong with me). He took my hand and we swam together. I didn't want to ruin their dive, it was a nice one and everybody seemed to enjoy it, so far.
You shouldn't bother trying to be unselfish when you're under water. This was something I learned the hard way.
That weird feeling didn't leave me for one bit, and it started to really take over me in a suffocating way. We have reached the canyon.
The canyon was narrow; it looked like a narrow crack through big sharp edged walls. The walls on the insides met at the top, forming the canyon's cracked ceiling. Claustrophobics worst nightmare.
At that point, I was carefully observing my movements, my reactions, and overall the way I was thinking. I was told that nitrogen intoxication (sikir la3maq) have specific symptoms: You don't think straight, you get dizzy, you're reactions get slower, and you end up taking off your mask and regulator (oxygen) in frenzy. I feared that. That was why I had Sulaiman close, so I could have someone taking care of me in case I go crazy for a minute. On top of that, I was paying close attention to myself. That was also scary in itself. That you had to observe your 'self' and stop it from doing something crazy.
We went into the canyon, the guide first, followed by Aziz, then Mohammed, then Me, and then Sulaiman. Mohammed was slow, he was holding me back. At that time I was officially suffocating. I couldn't breath. There was air coming in and out of my lungs, but for some reason it wasn't registering, like I wasn't getting enough air in. Somehow water got into my mouth and I swallowed.
I was drowning.
I should keep it together; I should pay attention to what I'm doing. I should all do that.. while suffocating. Also I shouldn't cause any freak out. We're in a narrow canyon; we're nearing its end. We're going up to its exit. Hold on a litte more. Wait your turn to exit. It's finally my turn to go up. More water swallowed. Mohammed is too damn slow! I rush behind him.. and thats when I received a major kick from Mohammed's fins. My mask goes off and I can't see. Uncontrollably I start swallowing more water. I try to keep it cool and not freak out. I'm going up behind Mohammed, I'm swallowing even more water, I'm adjusting my mask, I try to navigate away from the sharp edges of the canyon, all that while suffocating and gasping for air. For one moment there I was ready to put an end to it all, shove them all and climb my way back to the surface and take in all the air and just BREATH IT ALL IN. But I couldn't.
Mask is back on, we're out of the canyon, the guide is checking on all of us. He's checking on all of my 3 friends, and I'm just waiting for my turn to be checked on. It was just getting crazier and crazier. Imagine someone drowning, and is trying to be polite and wait for his turn to be checked on. That was me. Stupid. When it finally was my turn, I couldn't keep together any longer; I raised my thumb pointing to the surface, while my other hand on my throat making the 'kill/dead' gesture, and started to kick my way up. The guide came rushing, and stopped me from acting on my own. I wanted to go up. I'm not kidding, I'm drowning, and I'm not getting enough oxygen! Maybe there is something wrong with the tank! I need oxygen! Get me out! yup I reached that point after many attempts to stay cool and act professional. I was held down in spite of all what I was feeling. I had to comply and stop in my place. I rested and took as many inhales as I could, air was rushing in and outta my lungs.
40 minutes later, we were sitting in a cafe that overlooked the beach. We were discussing what happened. The guide asked whether I had something to eat or not? That was one of the 2 possible reasons for what happened; I was diving on an empty stomach. The other reason was: I was too conservative with my tank. I tried to be economical and control my intake until I literally suffocated myself. I managed to prolong my tank's life till I reached a point where I had too little oxygen in me to keep me going, that's when I had my "Hyper ventilation."
Lesson learned & Reaffirmed:
1- Have a great buddy around.
2- Eat properly before a dive.
3- Being polite could kill you sometimes.
4- Live, Learn, and don't let bad experiences affect your future ones.