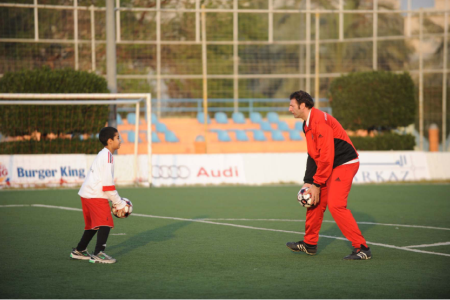 Registration for AC Milan Soccer School had just started. The AC Milan
Soccer School in Kuwait is affiliated with LoYAC's Soccer Academy. The
collaboration between Milan School and LoYAC Soccer Academy will provide the youth of Kuwait with innovative and personalized training method from world class AC Milan Trainers.
Aim:
Provide the youth with an open environment in which they can get training and development in soccer from willing and well qualified coaches.
Help youth foster a positive attitude towards their peers and life.
Help the youth grow in the area of social development.
Instill youth with the willingness to be health conscious, for a healthier
upcoming generation.
Camp Features:
Training Location: Abul Field – Dasma
Training: 90 minutes sessions three times a week
Training season from October 2010 – May 2011
Two official AC Milan Coaches
Three students will be selected to play in AC Milan tournament abroad
Registration terms:
Young boys from 6 to 16 years from all nationalities.
For more information visit soccer.loyac.org or call 99254708
Thanks Ban1