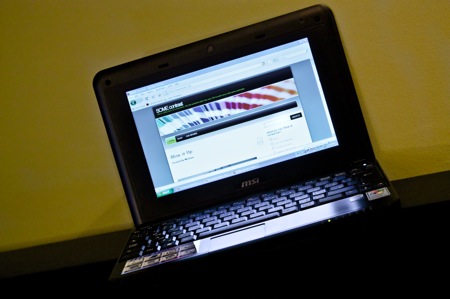 As the topic says, I went yesterday with my wife to Safat Alghanim to search for the Acer Aspire One which Pure mentioned in the comments in my last post but guess what ?! SOLD OUT! even with a higher price its sold out in every alghanim branch. So i decided to end this issue by spending almost triple the Acer price and bought MSI Wind U90 for KD145 🙂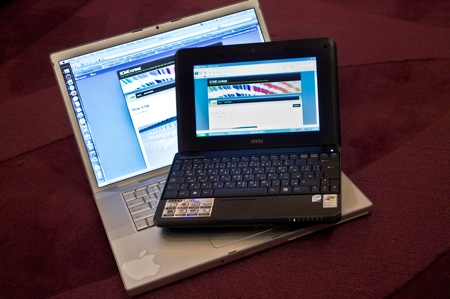 The best two models there were Asus EeePC 900 & MSI Wind U90 and their prices were KD155 & KD145 respectively, Esara7a i was confused between the two of them .. the Eee 900 was so sexy an SO TINY but when it comes to the specs the Wind wins.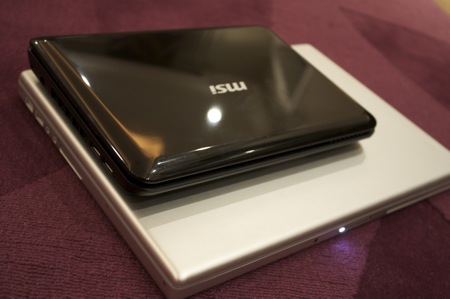 Here are the MSI Wind U90 specs:
Got bluetooth (No bluetooth for the Asus).
80GB HD (20 GB for the Asus).
1GB RAM upgradable to 2GB.
Running Windows XP (Which is not a PLUS!) however, the Asus runs Linux.
3 USB ports.
It cost less than the Asus by KD10.
Now i've ordered the Dell 1490 broadcom based card from eBay as Mark said in his post plus the 6-cells battery from Amazon these are the things needed to get my tiny machine to run OSX 🙂
But my only question now:
Is there any difference in the Arabic keyboard layouts between the Mac and Windows? Do i need to re-arrange it after installing the OSX? ( i do need Arabic coz my MacBook Pro doesnt have Arabic layout  )
This entry was posted on Saturday, September 27th, 2008 at 5:27 am