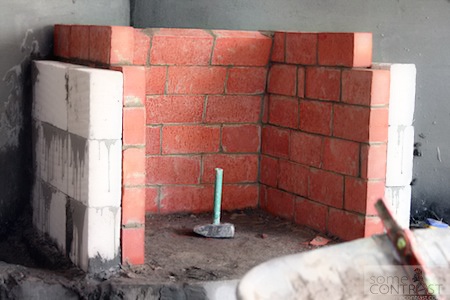 We're in the middle of building an extension to the dewaniya, and one of the guys suggested we build a Fireplace in there. We all agreed to the idea and we liked the effect it'd add to the interiors. Finding a place that builds (reasonably priced) Fireplaces and chimneys was a nightmare. We're on a budget, if you aren't on one you'd breeze through the process, but we do have a budget and we're trying to stick to it. We combed Shuwaikh and asked everybody.. We were out of luck, we didn't find a single place that does them, and every builder we called was out of the country.
We learned later from a friend that they did a couple of Fireplaces in their Abdali farm and He recommended Bu Hassan the chimney specialist. We're now in the process of building the thing, we've chosen the colors and the rocks that'll go into making it. So far this guy seems to know what he's doing, especially when it comes to the tricky ventilation part. Apparently getting the smoke of the chimney top without smoking back the fumes into the room is a tricky matter, and not everyone is qualified enough to prevent that from happening.
I'll keep you posted about this guy's work, and will post the final pictures when he's done incase someone else is thinking about building a chimney.
This entry was posted on Wednesday, April 21st, 2010 at 8:06 am