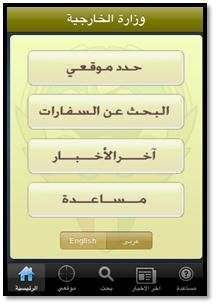 Just got it from them:
يسر وزارة الخارجية، وبمناسبة قرب حلول عيد الفطر المبارك وموسم السفر، أن تعلن لمواطني دولة الكويت عن إطلاقها لخدمات تقنية نوعيّة مجانية وذلك ابتداءً من اليوم الثلاثاء الموافق7/9/2010
وإستجابةً للتطورات التقنية المتسارعة، وإسهاماً منها في التيسير على المسافرين من مواطني دولة الكويت ومراجعي بعثاتها في الخارج وسرعة تواصلهم مع السفارات، وفّرت وزارة الخارجية لمستخدمي أجهزة الـ I Phone ، الـ I Pad و الـ I Pod ميزة الإنزال المجّاني للبرنامج المعنون "Ministry of Foreign Affairs State of Kuwait" عن طريق الـAPP Store للإستفادة من تطبيقاته وخدماته المتعددة التي تُرشد المستخدم إلى البعثة الدبلوماسية المراد الوصول إليها وذلك عن طريق خدمة تحديد الموقع، إضافةً إلى عنوان البعثة الدبلوماسية (سفارة / قنصلية) وساعات دوامها الرسمي وهواتفها وبريدها الإلكتروني
كما إن من شأن البرنامج أن يُؤمِّن استلام مواطني دولة الكويت لآخر الإرشادات الخاصة بالسفر والأخبار والتنويهات الصادرة عن وزارة الخارجية، مما يكفل الإطلاع الفوري على المستجدات والإحاطة المباشرة بها، وذلك في سابقةٍ تُعد الأولى من نوعها على نطاق الخدمات المقدمة من وزارات الخارجية في منطقة الشرق الأوسط.
و تعد النسخة المطروحة نسخة تجريبية حيث يمكن لمستخدميها التواصل مع الوزارة عن طريق البريد الالكتروني "i.mofa@mofa.gov.kw " في حال وجود اي ملاحاظات و اقتراحات بشان الخدمة.
Thumbs up, a good move by the ministry.